Private Label Soap
If you wish to outsource soap-making for sale under your brand name in the European Union market, we can do private labels which adhere to the EU regulations for sale in the EU markets. Private labels are suitable for breweries and beauty salons who wants to have their own soap products.
Contact us for more information.
Party soap gifts, conference soap gifts and soap personalisation
Delivery : 2-3 months (natural soap) 15-25 days for glycerin melt and pour soaps.
Soaps can be tailored-made in ingredients, form, weight, shape, color, scent, packaging … and you can build a story behind your gift.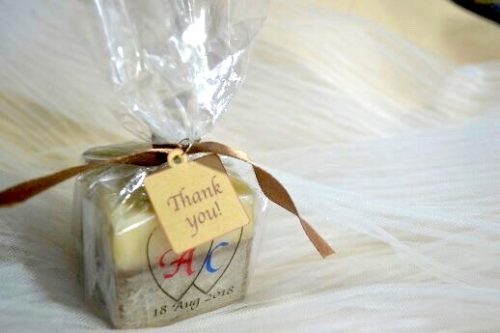 Planning for a soap gift :
Define or choose a formula with your favorite ingredients, the flowers or the herbs you grow. With your favorite beer or without beer. Guests will know it's a love from you.
Choose a colour for your soap that match with your party's theme or home furnishings.
Choose a favorite form for your soap that resonance an occasion.
Choose your favorite fragrance or scent to show your personality.
Make a special stamp, a logo, a signature and have it stamped onto the soap.
Of course, nothing prevents you from taking a learning session and learn to make the soaps yourself.
On the packaging
Numerous ideas on the packaging material and format to surprise your guests.
Create a message that goes with the soap you choose and impress your guests.
Accompanying the soap
Why not add a soap accessory – a soap saver, a scrubber to your gift set. We can create textile products that go with your soap gifts.
Amy is here to answer your question. Let's discuss :