Cold process soap making workshop (saponification à froid)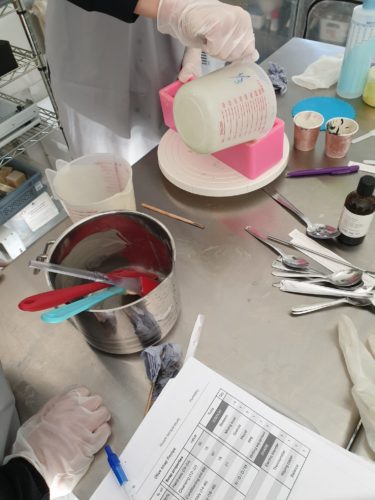 July 1 – Aug 31 2023
Summer vacationn
Workshops restarts September :
9, 16 23, 30 September, 0930 – 1230 (session 1, session 2 by appointment after session 1)
The soap (cold process soap) making process requires two sessions :
First session of 3 hours – formulation (theory) and making (practice).
Leave soap in workshop and wait 2-3 days.
Second session of 1 hour : debriefing, cutting, stamping and styling of soaps.
Dry soap for 4-6 weeks at home then they are good for use.
Details of workshop :
 
Day one
Day two
Time
3 hours (half day)
1 hour
Content
theory – saponification, ingredients, formulation, calculations, superfat, cautions…
practice – making 500g of soap in our laboratory.
debriefing, unmoulding, cleaning, cutting and stamping soap
Fees*
49€ 
 
Address of workshop: 
Our showroom/workshop at rue de Stalle 260, 1180 Uccle.
How to get your soaps :
– If you can't attend Session 2, I will do the cutting, stamping and styling of the soaps and send you photos/video on it.  One week later, I'll deliver the soaps for you to continue to dry them at home. Free Bruxelles delivery.  +~7 euros for other Belgian locations via bPost.
– If you come back 2-3 days later for Session 2, you leave with your soaps and continue to dry them at home.
How much soap you get: 500 g (before drying) of unscented natural color non-beer soap, about 5 pieces.
*Fees include: teaching, use of personal protection equipment, all ingredients, use of tools in the laboratory.  We shall be making a soap according to a validated formula.  You will use what we can provide as ingredients, we will not entertain any request to change the formula.  You are welcome to bring your essential oils or oil-based perfumes to scent your soaps.  There is no other hidden fees except postage fees if you wish the soaps to be sent outside Bruxelles.
Notes:
Language: English or French.
To ensure personalised follow up in the workshop, I can accommodate max. 2 persons in the laboratory at the same time. 
Payment due before class starts via 'payconiq' or bank transfer.
Questions and reservations : Miss Amy Lam infos@labeerepoque.be or phone/whatspp +32 0468 07 62 06
Amy Ka-Wai Poisot-Lam : Certified savonnier – Répertoire National des Certifications Professionnelles, France