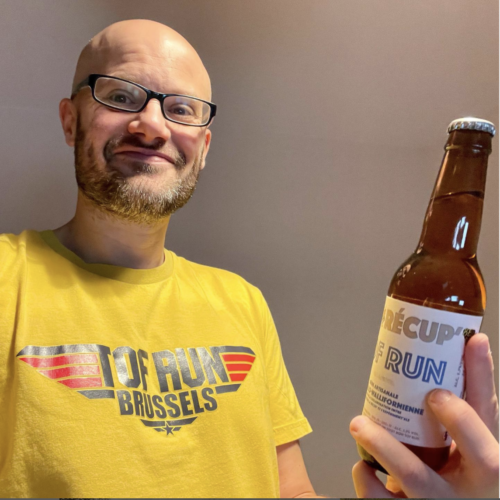 Artisans admire artisans. We have dreams, we have challenges; but we enjoy.
A new category of soaps is now added to our catalogue : Soaps – Microbrewers. It is a tribute to our Belgian micro-brewers. Belgian beers, the best in the world.
Our first one: La Récup. Located just few mins' walk from our savonnerie in Uccle and created by Jean-Yves Balandier our micro-brewers (INS @berunnonpeutetre) the co-founder of a running blog BE RUN, Non Peut-Être ! and the asbl of the same name.
The blog organises regularly running visits around Brussels. After the challenge, runners usually get together to continue to have a good time with one another around a beer. One thing leads to another and La Récup was born – an artisan beer to honour the runners – it is brewed in Brussels by the former chemist Jean-Yves.
The pandemic nailed everyone home, that's the great era of thinking and creativity – we're talking about ideas, projects, dreams… only 'La Beer Epoque' but also 'La Récup'. Both were born in 2020.
BE RUN, Non Peut-Être has until now brewed 7 beers, a serie of beers that witness the progression in running : from the first 5K through several long distance, and the Trail .
Check out the blog and their beers La Récup here : www.BE-RUN.be You will discover Brussels and beers differently.
While you admire the genuine artisan beer from Brussels, you may as well want to discover the soap made with La Récup beer, let the pleasure prolong. Check them out in our shop.
Even better, come to visit us in our showroom-workshop on Rue de Stalle, then check out La Recup brewery which is just 2 mins away by run.