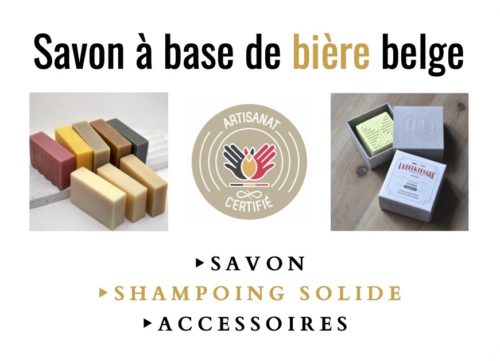 Attribution by le SPF Ministry of Economy of Belgium
Ka Lab savonnerie has been attributed the mention of "Artisanat Certifié" or "Certified Craft" in English, by the Ministry SPF Economy, for the Belgian beer soap we made, in the 'Fabricant de savon bio' sector, effective 16/02/2021.
What so special about Belgian beer soap ? Because it's Belgian, it's beer, and it's a soap, all together. It's the beer and the hops that make it special.
Certified craft in bio soap
The Belgian beer culture is the inspiration of the Belgian beer soap. Unesco has recognized Belgian beer culture as an intangible heritage since 2016.
Every year, the SPF organises a "Journée de l'Artisan" in which you can visit the artisans in their workshop. Check out the last or forthcoming date here.
Small scale production
Nevertheless, beer soaps is an advanced handmade natural soap. Its making requires experience and patience as each beer is different. At the beginning, one quarter of my production failed. In addition, no automation can replace the manual method in its making.
These soaps are in in a dedicated savonnnerie in Bruxelles, and dispatched from Brussels.
Finally, I thank the SPF for the recognition of the craftsmanship need to make Belgian beer soaps, and I shall continue to refine my technique for the benefits of every customer.