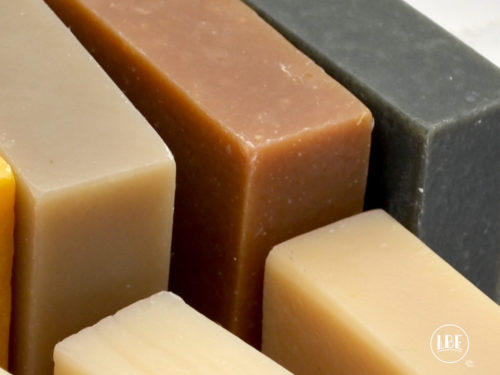 A mild beer soap for all skin type
Sudoras, a soap designed for big sweats, is available in Day and Night versions. It is a mild soap for all skin types.
A Sudoras allows you to rinse off heavy sweats efficiently and quickly. It combines the wonders of shea butter, avocado oil, olive oil, coconut oil, and brown beer. Both soaps are carefully scented with essential oils that refresh you after your routine. More info here about base ingredients for soaps.
Origin of Sudoras
The name Sudoras is inspired by 'sudore', a Latin word meaning sweat, perspiration. This range of soap is designed for those who want to rinse more often, sportsmen and women, for example in summer. Of course, you could use it at any time in your daily life all year round.
Post-workout Sudoras Day
After your regular workouts, kick-boxing or yoga, the good practice is to first calm down for a few minutes. You should cool down, drink plenty of water to keep your body hydrated, without rushing to the shower right away. Then you bring your soap, solid shampoo and towel to the shower. Take a good shower to rinse off the big sweats with your soap and refresh yourself with the Patchouli and Lemongrass scented Sudoral-Day Post-Workout.
Soap made from the saponification of avocado oil and olive oil is particularly moisturizing. It lathers abundantly, emollient your skin and easy to rinse, without leaving any chemical substances toxic to the environment.
The beer for Sudoras Day
The Trappist beer Rochefort 10 is chosen to make this soap for the authenticity of a Trappist beer, and also for its dark color of SRM 18-21 (dark brown). Brown beer does not give a dark soap that is true to its original color. This is therefore compensated for by an infusion of coffee, which has an additional dirt- and odour-removing effect.
Pre-dream Sudoras Night
Or after a long day of work or late evening entertainment, relax with Sudoras-Night in a hot bath. You will catch your dreams in the blessings of essential oils of cedar wood, orange and lavender..
The beer for Sudoras Night
Chimay Blue is chosen to make Sudoras Night because of its reputation as a well-known Belgian beer, as well as its dark color of SRM 40. As explained before, the brown beer does not give a dark soap that is true to its original color. Sudoras Night is therefore compensated for by the addition of charcoal, which offers an extra effect of removing dirt and soothing skin affected by irritations such as acne..
Avocado oil
Avocado oil is rich in oleic fatty acids and vitamins. In oil, these are active ingredients that nourish the skin in depth and fight against the signs of aging. In soap, Sodium Avocadate, or saponified avocado oil, is a gentle cleanser that also moisturizes your skin.
Sportive people move around with their soaps
Remember to move around with your soap with a "Le voyageur" fabric soap carrier. This soap carrier is designed to accompany sportsmen or travellers wherever they go. Made of cotton, it keeps your soap dry in your travel bag.
The essential oils
Natural essential oils contain natural and fragrant molecules. It is these molecules that give medicinal effects and its scent. However, some people can develop dermal reactions to these molecules. That is why the quantity of each should not exceed the quantity defined by IFRA, and certified by the experts in cosmetics.
Analysis of Sudoras Day
| | | |
| --- | --- | --- |
| Molecule odoriférante | % dans le savon | % maximal IFRA |
| Citral | 1.00440023 | 1.2 |
| Citronellol | 0.010713 | 24 |
| Eugenol | 0.0040176 | 4.9 |
| Geraniol | 0.09374402 | 9.2 |
Analysis of Sudoras Night
| | | |
| --- | --- | --- |
| Molecule odoriférante | % dans le savon | % maximal IFRA |
| Citral | 0.00670884 | 1.2 |
| Coumarin | 0.00028752 | 0,52 |
| Geraniol | 0.00143761 | 9,2 |
Friendly reminder – even organic and natural substances, such as essential oils, can somehow give you allergies. If you have any doubts about allergens, always try a small dose on your forearm skin before applying to your face and body. For a rinse-off product like soap, in general terms, it is not recommended to leave soap suds on the skin for longer than a minute.

IFRA – The International Fragrance Association