Essentials E – all skin types
For all skin types
Essentials E – natural beer soap is a mild soap for the body and daily use, made from lager, olive oil, shea butter, coconut oil.
Unscented beer soap is great for those who seek soaps in its purest natural form and take full advantage of its skin conditioning benefits. Perfect for pregnant women and skins which needs a bit of good cleansing and gentle pampering.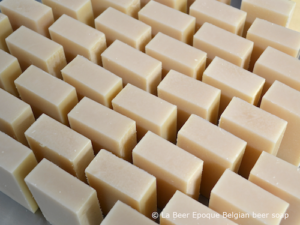 Beer soap does not smell beer
No, it doesn't smell like beer. This soap looks common because it does not contain any perfume or extra essential oils, but it has its unique, natural and subtle sweet aroma of malt. Click here to find out which beers are used in our "Essentials E" range of natural beer soap.
Natural aroma
Depending on the beer, there can be up to 40% beer (from the aqueous phase) in a beer soap. The more beer there is in the soap, the more you smell the scent.
Unlike any fragrance or essential oils, its aroma stays over time because it's natural and has no volatile molecules. Perfect for pregnant women and for any skin requiring a good cleaning without risk of allergy.
Its aroma and color vary according to the beer chosen. Different beers give different shades of amber or beige to the soap. The color shade of the soap is also influenced by the amount of beer and the type of beer put in the soap. In general, white beer are off-white, while most blonde beers are cafe-au-lait in colour.
Beer protects your skin
The presence of hops dans the soap adds an antimicrobial advantage to the product.
In addition, vitamin E is added as an antioxidant agent. This is why this range of soap is called "Essentials E". It is in fact also present in all "La Beer Epoque" soap and solid shampoo products.
Hops is an excellent exfoliant
A sub-branch of Essentials E beer soap is the Essential E | Houblon Exfoliating soap. Finely ground hops is added to this soap as exfoliant. Ground hops is less scratchy than coffee ground, more tangible than oats.
Natural beer soaps lather like Belgian beer
These natural beer soaps, thanks to the presence of maltose and glucose in beer, produce an abundance of foam. They foam like Belgian beer. The more a soap foams, the more efficient its cleaning power is.
Finally, think of getting a fabric soap-carrier "Le voyageur" from our e-shop. This way, you can always bring your favorite soap with you wherever you go, in an ecological way.