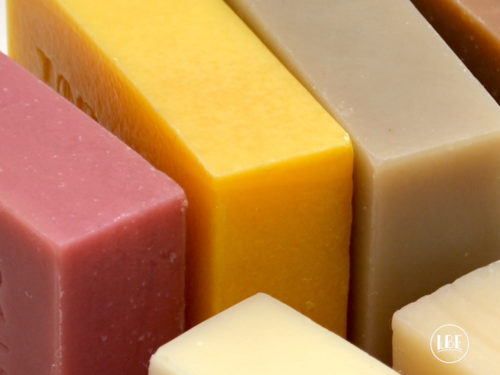 See fruitas in Shop
Lambic soaps, festive soaps
Some says fruity beer such as lambic/kriek/geuze is considered a ladies' beer. Well, everyone has his own taste, you might be missing out on some good stuff. To brighten up your daily life, La Beer Epoque® offers 3 mango butter and fruity beer soaps – Morello Cherry, Limonado and Apple in the 'Fruitas' line of soaps.
Fruitas is a carnival of Belgian lambic beers, olive oil, mango butter and coconut oil. This range is designed for normal, mixed to dry skin. Thanks to the mango butter, this soap is super moisturizing. It is perfect to use also during the dry season when our skin suffers from atmospheric dryness or the constant attack of the sun. Click here for more information about the ingredients.
Mango seed butter
Normal to dry skin
In a soap, the Mango Seed Butter will be saponified into soap molecules called Sodium Mangoseedate. Mango Butter beer soap is known for these properties: emollient, softening and soothing. In soap molecule, it becomes a very soft surfactant by maintaining its properties: moisturizing the skin, and helps the skin to restore the balance after rinsing. At the same time, by softening the skin, it leaves the skin satin-smooth.
The 3 Fruitas
Not only by the color, the Fruitas differ from the Sudoras by their scents and colors:
Fruitas Griotte
Griotte reminds us of the perfume that goes with it – Morello cherry, with a scent of cherry. To obtain the grayish pink color that is inspired by the cherry kriek Morte Subite, a small amount of red mica is put into the formula. As this is a hand-made process, the shade of pink may vary slightly from batch to batch.
Fruitas Limonado
The design of Limonado is based on Maes Radler beer, a lemon lambic. A must to make your daily life more colourful. The bright, yellow color is contributed by a pinch of yellow mica in the formula. This is the same natural mineral found in eye shadows. Like the Griotte, the shade of yellow may vary slightly from batch to batch. Its fragrance is obvious: a mix of lime and coriander, IFRA approved. It is fruity, enchanting and refreshing.
Fruitas Pomme
Lindemans Appel is the prototype of the lambic soap Fruitas Pomme. Like its beer, it is scented with a mixture of apple and cinnamon, fruity but not very sweet. The green color is reproduced with French green clay. The French green clay nourishes the skin deeply and removes impurities. Unlike Griotte and Limonado, this mango butter soap is also ideal for mixed skin type because the green clay also regulates excess sebum.
Travelling with your organic soap is never so easy and ecologique
Think of travelling with your Fruitas mango butter beer soap in a "Le voyageur" fabric soap carrier. This soap carrier is designed by us to accompany the sportsmen or travellers wherever they go. Made of cotton (canvas and popelin), it allows you to keep your soap dry in your travel bag. You now have an option to stop using the plastic or metal soap dishes. Another step towards eco-living.
Le parfum
Fruitas soaps are scented by perfume, or 'fragrance'. Fragrance is said to be "a safe and essential part of life: it has the power to trigger a whole range of positive emotions and to improve life". (quote from IFRA) A perfume is usually made from plant essences and/or synthetic molecules.
Synthetic molecules are more stable, durable and controlled compared to natural molecules, which can vary in quality from harvest to harvest. The fragrances chosen by us are those approved by IFRA and supplied by renowned sources.
Fragrance is a safe ingredient
Fragrance is a safe cosmetic ingredient because the creation and manufacture of each perfume should follow the standard imposed by IFRA for the safety of consumers. This standard applies both to essential oils and perfumes.
The fragrances used in Fruitas mango butter beer soap are part of these certified fragrances, and are supplied by renowned suppliers in Germany. It has been found that certain molecules could be allergens for some users. To ensure that our products are safe, the analyses below show that their presence is well below the limits imposed by IFRA, and they are mentioned on our packaging boxes.
Analysis of Griotte:
| | | |
| --- | --- | --- |
| Molecule odoriférante | % dans le savon | % maximal IFRA |
| Benzyl alcohol | 0.02178988 | 2,2 |
| Benzyl salicylate | 0.05447471 | 2,2 |
| Eugenol | 0.02593969 | 4,9 |
| Geraniol | 0.01297023 | 9,2 |
Analysis of Limonado:
| | | |
| --- | --- | --- |
| Molecule odoriférante: | % dans le savon | % maximal IFRA |
| Citral | 0,15882101 | 1,2 |
| Citronellol | 0.00267899 | 24,0 |
| Eugenol | 4.4747E-05 | 4,9 |
| Farnesol | 9.7276E-06 | 2,3 |
| Geraniol | 0,00865953 | 9,2 |
Analysis of Pomme:
| | | |
| --- | --- | --- |
| Molecule odoriférante: | % dans le savon | % maximal IFRA |
| Cinnamyl Alcohol | 0,00018093 | 0,76 |
| Citral | 0,15882101 | 1,2 |
| Coumarin | 0,07782101 | 0,52 |
| Eugenol | 0,31994163 | 4,9 |
Friendly reminder – even organic and natural substances, such as essential oils, can somehow give you allergies. If you have any doubts about allergens, always try a small dose on your forearm skin before applying to your face and body. For a rinse-off product like soap, in general terms, it is not recommended to leave soap suds on the skin for longer than a minute.